News Articles
NTA receives recognition award for ISO certification
THE National Tobacco Administration was awarded Certificate of Recognition by the Govern-ment Quality Management Committee (GQMC) for successfully attaining ISO 9001:2008 certification for its Quality Management System (QMS), during the 4th Recognition Ceremony, graced by Vice President Maria Leonora Robredo, held at the LBP Auditorium, LBP Building in Malate, Manila on November 10.
This GQMC gave the recognition to the government agencies, including government-owned and -controlled corporations (GOCCs), state universities and colleges, and local government units (LGUs), whose QMS have attained ISO 9001 QMS Certifications from January 2012 to October 2016.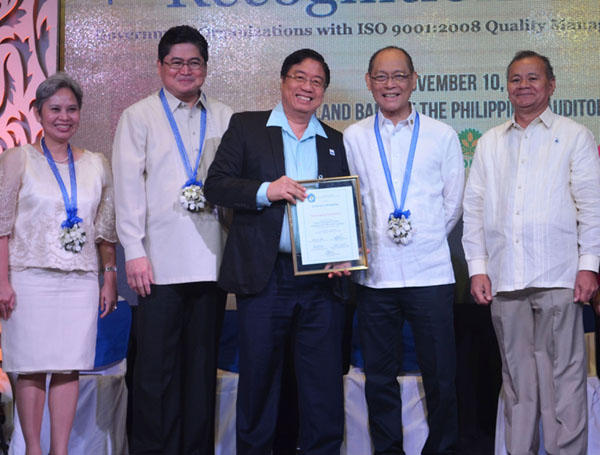 NTA Administrator Edgardo D. Zaragoza, along with CorPlan Manager and Quality Management Representative (QMR) Rex Antonio P. Teoxon, received the award from Budget Secretary and GQMC Chair Benjamin E. Diokno.
Secretary Diokno said that the awardees were specially recognized for achieving the goal of Government Quality Management Program (GQMP) of strengthening institutional capacities of public sector organizations in delive-ring citizen-focused public services and in implementing international standards-based quality management system.
The International Organization for Standardization (ISO) certification for national agencies, executive offices, GOCCs, state universities and colleges, and LGUs, is in compliance with Executive Order No. 605 s. 2007 institu-tionalizing the structure, mechanisms and standards to implement GQMP. ISO is a UK-based independent certification body and the world's largest developer and publisher of international standards.
In her message to the awardees, Vice President Robredo reminded the officials that the word "government" should not simply refer to all of us who are working in government. "It is about how we interact with the public. It is about how we solve things together when we can't do things on our own," she explained.
Three days before the awarding ceremony, Administrator Zaragoza formally received the Certification issued by Société Générale de Surveillance (SGS) from Teoxon during the Monday flag-raising ceremony at the NTA Central Office in Quezon City.
The NTA ISO 9001:2008 Certification covers the NTA Central Office and the Farm Technology and Services Department in Batac City. The certifi-cation is dated September 19, 2016 and has validity until September 15, 2018, subject to satisfactory surveillance audits.
"Achieving the quality standards reinforces NTA's commitment to deliver the highest quality of service to all our stakeholders and continually improving its business processes," Zaragoza said.
The following frontline services are covered by the ISO 9001:2008 Certification: Regulatory Services; Research and Development; and Technology Assistance, Extension and Production Support Services.
Zaragoza thanked all the members of the NTA family for their valuable contributions in its success. He commended the NTA QMS Core Team headed by CorPlan Manager Teoxon (QMR Representative) and Administrative Department Manager Dr. Cristina C. Lopez (Deputy QMR).
Other members of the Core Team are the Task Group Chairpersons, namely, Imelda N. Riñen, Technology Development, Extension and Production Support Services; Dinah E. Pichay, Support to Operations, Overview of Quality Procedure; Dr. Roberto R. Bonoan, Research and Development, Control of Frontline Services; Maybelen B. Dictaan, Regulations; Dr. Giovanni B. Palabay, Branch Operations; Ma. Teresa B. Laudencia, Management of Resources to Support QMS; Priscilla S. Esguerra, Management Information System; and Raquel Leilani F. Señga, Customers Satisfaction Determination.
Also cited by the Administrator were the members of the QMS Secretariat, namely, Fortuna C. Benosa, chairperson; Manuel C. Ramiscal, vice-chairperson; and Perla C. Manzon, Charity P. Garcia, Vivien F. Ferareza, Teresita D. Dela Rosa, and Rosalie P. Catura, members.
NTA started the development and implementation of the Development of QMS Certifiable to ISO in September 2015. This was brought about by the call of the national government for all its departments, bureaus and other agencies to be ISO certified, and aligned with its aim of streamlining procedures in the government to improve public service delivery and in ensuring good governance.
The agency went through quality management system awareness program and training courses on internal quality audit facilitated by the Development Academy of the Philippines (DAP) on the first quarter this year. It completed the stage 1 audit in July, then the rigorous stage 2 audit by the Société Générale de Surveillance (SGS) a month after. (Neyo E. Valdez)