News Articles
TGY provincial winners recognized
THE NTA honored 17 tobacco growers for showing exemplary efforts in tobacco production. The awarding ceremony was held during the culminating program of its 30th Anniversary celebrations on July 28 at the NTA Central Office quadrangle in Quezon City.
The provincial winners were adjudged Branch winners for each tobacco type for the TGY Provincial Category in their respective areas.
The contest recognizes the continuing efforts of tobacco growers who show innovativeness, efficiency, compliance with Good Agricultural Practices, and protect the environment and demonstrate application of science and technology-based knowledge, during production and getting the maximum income from their labor.
This year's TGY provincial awardees, for crop year 2015-2016, for each category, are:
Virginia: Edgardo P. Gabbac (Camandingan, Batac City), Alvin B. Bilgera (Agtangao, Bangued, Abra), and Norberto A. Aragoza (Dangdangla, San Juan, La Union) for Virginia Neutral; Noel A. Guillermo (Sta. Magdalena, Sarrat, Ilocos Norte), Eligio V. Vega (Nagsupotan, San Juan, Ilocos Sur), Florante B. Tingle (Pidpid, Sta. Cruz, Ilocos Sur), and Rolly B. Rodriguez (Sinapangan Norte, Balaoan, La Union) for Virginia Improved Flavor;
Burley: Henry T. De Vera (Tabtabungao, Rosario, La Union) and Lito S. Esteban (Matarannoc, San Manuel, Tarlac) for Burley Neutral; Jackylene M. Cacananta (Capulaan, Balungao, Pangasinan), Ernesto P. Francisco (Alabiao, Tuao, Cagayan), Roger M. Doroni (Dalig-Kalinga, Aurora, Isabela), and Richard C. De Guzman (Camburay, San Jose, Occidental Mindoro) for Burley Improved;
Native: Rosemarie A. Maddara (Imbia, Roxas, Isabela) for Native Cigar Filler; Joseph P. Lubos (Gatang, Malasiqui, Pangasinan) and Lloyd R. Gapasin (Parian Oeste, Bauang, La Union) for Native Batek; and Felizardo R. Cutamora (Sarmingan, Narvacan, Ilocos Sur) for Native Snuff.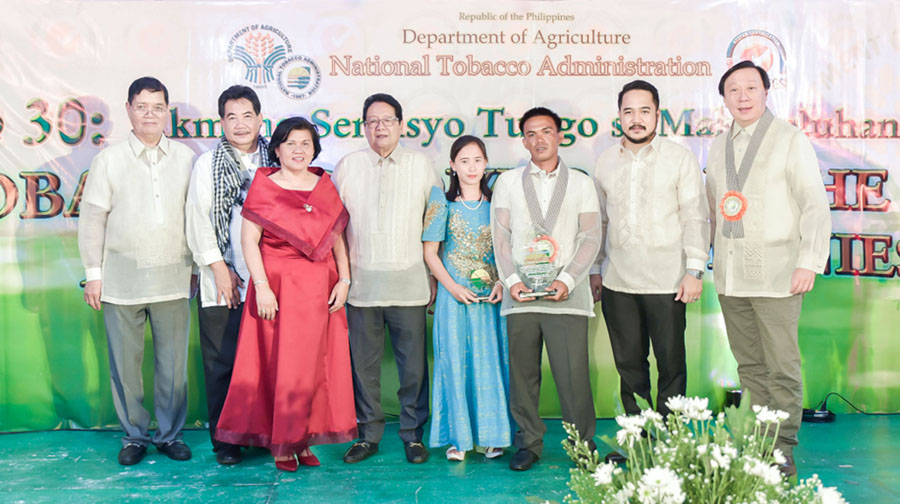 Administrator Robert L. Seares and Department of Agriculture Undersecretary Segfredo R. Serrano, along with Deputy Administrator for Operations Atty. Mel John I. Verzosa, NTA Director Rodolfo F. Salanga and ULPI President Winston P. Uy, handed out on stage the plaques and cash incentives to the provincial winners.
Speaking in behalf of the farmer awardees for Virginia tobacco, Bilgera thanked the agency for its various programs that look after the welfare and interest of the farmers not only in his province in Abra but also in other tobacco growing areas.
In his six years of planting tobacco, Bilgera, 32, already secured his family with a sustainable future. His rice and tobacco production are complementary as his sources of livelihood. He has never failed to repay the production assistance from NTA for both crops.
The two lady TGY winners, Cacananta and Maddara delivered their separate messages representing tobacco growers of Burley and Native, respectively.
Cacananta attributed her success in farming to the continuous assistance provided the farmers by the agency, through various projects and programs, such as irrigation support project, curing barn assistance projects, rice production, among others.
For TGY contest year 2015-2016, Cacananta, 33, planted Improved Burley in her one-hectare farm. She produced a total yield of 2,969 kg/ha with 92% high grades (ABC). She had a gross income of P208,944.40/ha.
Maddara, in her message, urged the government to have a balanced view of the tobacco industry in the country, that it remains to be committed in promoting a healthful environment, and at the same time, ensures that the interests disadvantaged. "Sana po, ay maging tuloy-tuloy ang pagpapatupad ng mga proyekto na nakakatulong sa aming mga magsasaka," she said.
During the contest year, Maddara was able to produce 3,253 kg/ha with 59.90% medium to high grades, and gross income of P156,844/ha. In 2010, she was recognized by Isabela Leaf Tobacco Co., Inc. as one of their outstanding farmers.
The provincial winners are all qualified to compete for the National TGY Contest which will be announced next year.
The TGY Awards also recognized extension workers who assisted the provincial awardees. They are Concepcion R. Quiocho (TPRO I) and Marzel E. Manzanas (Agriculturist I), Ilocos Norte Branch; Marife P. Peralta (TPRO), Abra Branch; Vicky L. Ramos (TPRO I), Vigan Branch; Amelia Veronica L. Lacaden (Agriculturist II) and Hermielyn C. Ringor (TPRO I), Candon Branch; Sinfrosa N. Valmonte (TPRO I), Candido I. Liangao (Agriculturist I), Christopher R. Supang (TPRO III), and Ambrosio C. Nisperos Jr. (TPRO I), La Union Branch; Rechie B. Vallo (TPRO I), Marina G. Pine (Agriculturist I), and Marcos B. Atela (Agriculturist I), Pangasinan Branch; Moises F. Duran (TPRO I), Cagayan Branch; Andres R. Gusto (TPRO I) and Primitivo A. Magudang (Agriculturist I), Isabela Branch; and Xandra C. Bravo (TPRO I), Occidental Mindoro Field Office.
In the TGY Contest, the provincial branch offices serve as the implementing arm of the project through its Branch Technical Committee (BTC). The committee is responsible for the recruitment, recommendation, and monitoring of the contestants' activities. The FTSD, acting as the National Technical Committee, reviews and evaluates the contestants' credentials and records forwarded by the BTC, and recommends the winners of the contest based on contest rules and guidelines to the TGY National Advisory Council, chaired by the Administrator.
Through the search and awards, the agency hopes to reward practices that allow the interplay of technology, quality, yield, and increased farmers' income.
Ilocos Norte Branch Manager Mario E. Corpuz and FTSD Manager Imelda N. Riñen hosted the event.