News Articles
Synchronized tree planting marks 5th year in Dolores, Abra
THE Synchronized Tree Planting (STP) project of the National Tobacco Administration is now on its fifth year as a regular event of the celebrations of its Founding Anniversary. This year, the synchronized tree planting activities in various areas in Regions I, II, and Abra were conducted on July 31.
At least 2 million tree seedlings, mostly forest trees like mahogany, gmelina, ipil-ipil and neem trees, are expected to be planted this year.
The command center and ceremonial planting site was the campus of Dolores Central School, in Poblacion, Dolores, Abra with NTA Abra as host of the annual event for the first time.
Despite the intermittent rain brought about by Typhoon Gorio, a total of 340 participants attended the opening program on July 29 at the Dolores gym and in various planting sites in three barangays of Dolores, namely, Kimmalaba, Sallucag, and Libtec.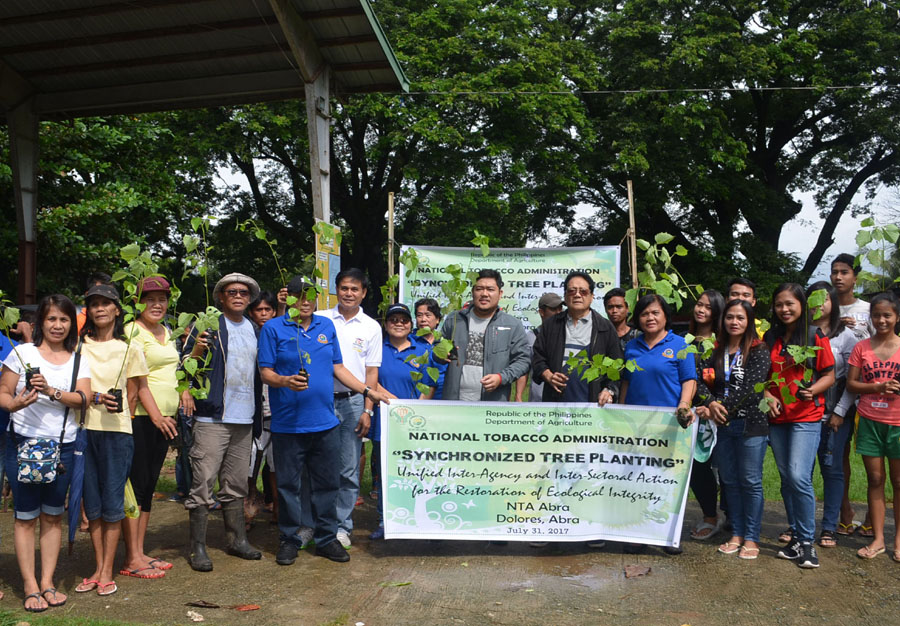 Administrator Robert L. Seares graced the event, which was participated also by Robert Victor G. Seares Jr., mayor of host LGU Dolores, Abra, and other local officials; NTA Farm Technology and Services Department (FTSD) Manager Imelda N. Riñen; Director Perfecto B. Cardenas of the Civil Service Commission; Provincial Manager Vera Lew DG. De Vera of the National Food Authority; Conchita T. Zapata, Principal of Dolores Central School; Provincial Chief Administrative Officer Marlo C. Avero of the Department of Agrarian Reform; and Project Manager Willy Mendoza of the Universal Leaf Philippines, Incorporated.
According to Esmeralda G. Valera, manager of NTA Abra, the branch office is targeting to plant at least 200,000 seedlings this year in various planting sites in the province.
For the past four years, the agency was able to plant about 4.3 million trees. This has involved a total of about 94,000 participants from various sectors from 2013 to 2016.
NTA Abra also conducted tree planting after July 28.
Lagayan Mayor Jendricks S. Luna and Vice Mayor Joy Chrisma Luna led local officials and LGU employees in the tree planting activity with NTA at Barangay Collago, Lagayan on August 3.
Local official and LGU employees of tobacco-growing municipalities of Manabo, Bucay, Peñarrubia, Pidigan, San Quintin, Tayum, San Juan, Lagangilang, Luba, San Isidro, Pilar and Villaviciosa also conducted tree planting activities in their respective areas in different schedules in August.
Students and teachers of Banat Elementary School and San Jose National High School, both in Manabo, and Pagala West Elementary School, Pagala East Primary School and Bangcagan Primary School, all in Bucay, also joined NTA Abra in said tree planting activities.
According to Manager Valera, this only shows the support of the different LGUs to NTA, not only in its renewable fuelwood projects but also in various programs and projects, that look after the interest and welfare of the local tobacco growers. (Marife P. Peralta / Neyo E. Valdez)
ILOCOS NORTE
THE NTA Ilocos Norte Branch, FTSD, and the Industrial Research Department in Batac City participated in this year's nationwide Synchronized Tree Planting (STP) activities on July 31 at Brgy. Uguis in Nueva Era, Ilocos Norte.
Amidst the cloudy skies in the early part of the day, the NTA family took their digging tools, personal effects as protection against the expected downpour, and food and drinking water and travelled for almost two hours from the office to the planting site. Local residents and barangay officials headed by Brgy. Chairman Arturo C. Lucas joined the NTA team in the planting activities.
Everyone accomplished the task early and had time to shoot/pose at all angles with the beautiful landscape as background, perfect in green and towering curves, with a river just a few meters along the road of the planting site.
According to Saturnino A. Agatep, TPRO III and Area Coordinator, a total 5,000 seedlings of Gmelina arborea, madre cacao, and Leocaena leucocephala were planted in the area "It was a very successful day, because the weather is fine, no downpour during our planting activities," said Agatep.
This year's STP was also implemented by various organizations, local government units and barangay officials, government agencies and religious groups in the different areas in the province. Based on the records of the Branch Operations Division, a total of 25,000 seedlings were produced, distributed, and/or transplanted in the province, with the proper coordination and assistance of the extension workers. There were 87 greening sites and a total of 11,371 participants.
NTA Ilocos Norte, headed by Manager Mario E. Corpuz, encouraged the participating groups to take care of the transplants against weeds and drought and protect these from stray animals. (Divina D. Pagdilao)
CANDON BRANCH
GREEN volunteers from the Municipality of Tagudin, Ilocos Sur planted forest tree seedlings at the municipal demo farm, evacuation center, and sanitary landfill at Brgy. Cabulanglangan on August 18. This was in support to the NTA Synchronized Tree Planting (STP) spearheaded by the NTA Candon Branch.
Deputy Administrator for Operations Atty. Mel John I. Verzosa and Candon Branch Manager Estrella G. De Peralta joined the planting volunteers of Tagudin headed by the local officials, namely, Mayor Roque S. Verzosa, Vice Mayor Bernardo Tovera Jr., Municipal Agricultural Officer Jocelyn L. Lamadrid, municipal officers Aiza Marie L. Lanuza (Environment and Natural Resources), Municipal Tourism Officer Mark Louie S. Fajardo (Tourism), and Juliet Meryl C. Jimenea (Focal Person for Tobacco), with some volunteers from national agencies, local police and firemen, other civic groups, and tobacco farmers associations and cooperatives.
For this year's STP, the Branch Office had a total of 19,288 seedlings, mostly mahogany, Gmelina, kalantas, ipil-ipil and neem tree, planted by 1,935 volunteers. Mayor Verzosa, in his message, focused on the citizens' contribution in arresting the bad effects of global warming. He said that tree planting is but one of the many activities one can share to help mitigate the ill effects of this worldwide phenomenon which mankind is pinpointed the main contributory factor.
Tagudin is one of the 22 municipalities of the 2nd district of Ilocos Sur, under the coverage of Candon Branch Office, that participated in this year's STP. A total of 360,061 seedlings were planted by about 36,100 planting volunteers.
Tree seedlings were propagated in nurseries strategically located in selected areas across the district, from Nagbukel and Narvacan to Tagudin and Sta. Cruz and in the upland municipalities of Lidlidda, Salcedo, Gregorio del Pilar, and Quirino. (Orlando O. Galdones)